Working together for a world free from leprosy
News Maksuda's Story: A model of leadership and giving back to others with leprosy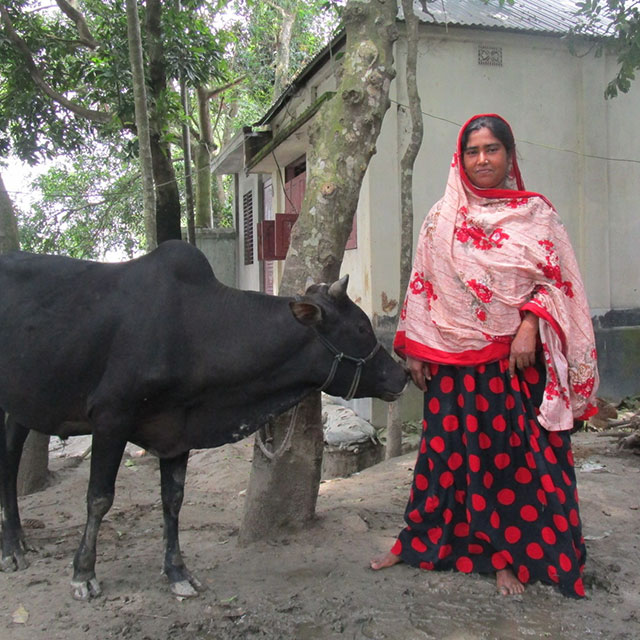 January 22, 2019
Maksuda first met Lepra staff when she was diagnosed with leprosy and received treatment at a local clinic at Sirajganj, Bangladesh. At the time of her diagnosis, she was married; however, she returned to her father's home with her daughter upon her divorce with her husband. Although Maksuda had successfully been treated for leprosy at this time, she was without her own home or source of income. She returned to Lepra's Sirajganj office to share her story, as well as ask how she could help.
Maksuda soon signed on as a community volunteer with Lepra, helping to raise awareness of leprosy, its symptoms and how treatment could be accessed. She was also trained to recognise the symptoms of leprosy, which allowed her to examine and refer possible patients to proper treatment.
Lepra also loaned a sewing machine to Maksuda, for which she received training and developed a personal sewing business: her first source of income. Grateful for this opportunity, Maksuda also had a dream of her own: to own a poultry farm. With the encouragement from her peers, financial help of her mother, and earnings from her tailoring business, Maksuda started her poultry farm with 300 chicks.
Gradually, Maksuda expanded her business by applying for a local loan. She also completed a training course for owning and caring for livestock, which was provided by the district Government Youth Development Department in Sirajganj. This allowed her to grow her farm to 2000 chicks.
Despite the successful growth of her dream business, Maksuda wanted to do something to help other people who were living with leprosy or other diseases. With the help of the Lepra staff in Bangladesh, she was able to form a self-help group called Kalyani Pratibondhi Unyaon Dal. Serving as treasurer, she now provides each group member with 19000 taka to allow them to develop a livelihood and support their own families, as she was able to do with the help of Lepra. Maksuda sources this money to her group through her personal savings, as well as donations and income from the group businesses.
Maksuda also became a member of the Self Care Practice Group in Lepra's "Reaching the Unreached" Project, where she practices self-care techniques with other members to care for the areas of the body affected by leprosy, and clean any injuries to prevent infection.
Maksuda's poultry farm continues to prosper, and with the encouragement of Lepra staff, she has expanded her farm to a size of 3000 sonaly chickens. She has also added goats and cows into the mix. She has worked enough to earn approximately 25000 taka each month, which is enough to support her family, and send her only daughter to study a diploma in physiotherapy at a private institution.
Maksuda dreams that her daughter "will be a physiotherapist and serve the poor."
Maksuda continues to conduct community health awareness campaigns for Lepra, examining and referring suspected cases of leprosy, and teaching self-care to people affected by leprosy and Limb Swelling Disease (Lymphatic Filariasis). She also regularly speaks to people in her community about the problems that she encountered, such as divorce, abuse and living with leprosy, and helps to support people going through similar situations.
''I want people to know that Leprosy is curable and we can defeat it by building awareness on leprosy and its consequences through forming unity in the community.''