Working together for a world free from leprosy
News Preventing leprosy in children: global push needed to end modern-day disease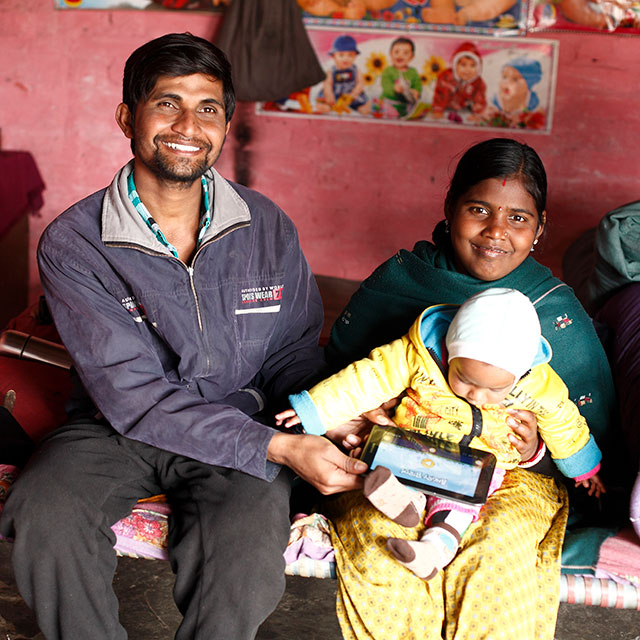 January 22, 2018
Blog by Dr. Paul Saunderson, ILEP ITC Chair and Medical Director of American Leprosy Missions, and Rosa Argent, ILEP Comms Manager
Leprosy is commonly known as the oldest human disease, given its biblical references and recognition in the ancient civilizations of China, Egypt and India, yet receiving a life-altering diagnosis of leprosy is a reality that affects tens of thousands of children each year.
On average, another child is diagnosed with leprosy every half hour. Contrary to popular beliefs, this is very much a modern-day disease.
For Sakshi, the first sign that she had leprosy came when she was just ten years old. She noticed her little finger on her right hand had become swollen and painful. After a few weeks her whole hand became numb and she started having trouble gripping her pencil. Her classmates began to notice and started bullying her, calling her 'lulli', a derogatory term for someone who is disabled. Eventually she stopped going to her local school as she could not keep up with her work.
Sakshi is from a rural village in Bihar, India – the country with more than 60% of global leprosy cases – yet her story is all too common across the world in often poor and marginalised communities where pockets of the disease remain endemic.
In 2017, the WHO reported a total number of 18,230 new child cases of leprosy. This is roughly 9% of the total number of global cases reported annually. The significant number of children contracting leprosy year on year concerns global health experts as it shows that transmission of the disease persists throughout communities.
Worryingly, reports in some countries have found that about 11% of children already have visible impairments at the time of diagnosis, indicating late detection.
For a disease that is curable – through multi-drug therapy treatment, which is provided free of charge globally by the Novartis Foundation – too many children are still ending up with preventable disabilities.
Leprosy is caused by a bacillus, Mycobacterium leprae, which multiplies very slowly and has a long incubation period of around 5 years.  The bacteria attack nerve endings and destroy the body's ability to feel pain and injury, often leading to wounds and infections. Similar to the common cold, it is believed that leprosy is spread by air through droplets from the nose and mouth. But unlike the common cold, it is only mildly infectious.
This means that children are most likely to contract leprosy at home, from close and prolonged contact with an infectious person. Research tells us that if you live in a household with a person who has untreated leprosy, you have an 8-fold risk of getting leprosy yourself, compared with the general population.
One technique being used to stop this spread is the examination of all household contacts whenever a new case of leprosy is diagnosed. Anyone newly diagnosed will be started on multi-drug therapy treatment immediately. In some areas, a single dose of antibiotic is also given to all household contacts without symptoms of the disease.
This simple action prevents leprosy in more than half of those who are already incubating the disease. Known as post-exposure prophylaxis, this is a promising treatment strategy that could help drive down the number of children contracting leprosy.
While globally great strides have been made to reduce the incidence of leprosy, the most recent WHO figures reveal that over 100 countries reported cases of leprosy, while more than half of these reported leprosy in boys and girls under 15 years old.  The widespread nature of this disease indicates that a coordinated international response is required.
On World Leprosy Day, Sunday 28 January, ILEP and partners are highlighting the need for a concerted global effort to prevent leprosy-related disabilities in girls and boys.
Children as young as nine are presenting with multiple disabilities, arising from clawed hands and foot drop, and are needing reconstructive surgery and physiotherapy to recover.
Gruelling medical interventions aside, children with leprosy often face crippling social barriers, including the loss of education, bullying and even rejection by family members because of the stigma associated with this disease.
Sakshi had to temporarily endure the pain of exclusion by her classmates and the inability to continue her education for a year. Yet she was fortunate to receive a diagnosis at the Lepra run Munger referral centre and thanks to a 12-month course of multi-drug therapy, she has no lasting disabilities relating to her diagnosis. She has returned to school and is working to fulfil her wish of becoming a teacher.
If we are to bring child leprosy rates down, the global health community must work with national governments to strengthen health care systems, improve early case detection and expand preventative treatments. We must ensure adults diagnosed with leprosy complete their treatments properly to stop the disease spreading in households. We must also get serious about ending discriminatory laws and practices, and increasing participation of people affected by leprosy, something ILEP members are committed to.
By working in collaboration to tackle leprosy on three fronts – zero transmission, zero disabilities and zero discrimination- we can stop leprosy from stealing childhoods, and take an important step closer to consigning this disease to history.
World Leprosy Day 2018 is focused on preventing girls and boys from developing disabilities associated with leprosy. Learn more.